Press
Discover the latest articles from international fashion magazines and blogs, as well as summaries of our worldwide trade fair appearances. Read interviews with founder and designer Tamara Comolli.
Stuttgarter Zeitung August 2020
When travel lust sparkles - designer and cosmopolitan Tamara Comolli created precious jewelry inspired by her love of the ocean and exotic countries.
ELLE August 2020
ELLE trends – The delicate myMIKADO necklace with a sparkling Diamond pave acorn is made for modern fairies.
GZ July 2020
"We are here for you" - Tamara Comolli proves with creative ideas that she supports her partner jewelers in difficult times.
Palm Beach - August 2020
Summer Lovin' - Our SAND DOLLAR in 18K white gold is a guarantee for an effortless yet luxurious beach feeling.
MADAME Germany- July/August 2020
Surprising Pearls - With the INDIA Dream earrings, Tamara Comolli reinterprets lustrous Tahiti Pearls.
Veranda - July 2020
Woodland Bazaar – Our versatile INDIA Snakewood bracelet with radiant Turquoise takes you on an exotic journey into the world of fine craftsmanship.
BUNTE Germany - July 2020
The 70s are back - BUNTE shows our beloved SAND DOLLAR adorned with colorful Sapphires and a white Diamond as highlight in the center.
ELLE Germany - July 2020
Beach Hippie - The INDIA Dream earrings radiate a luxurious hippie feeling with their delicate flower shape and the embellishing colorful Sapphires.
ELLE Germany - July 2020
From the love of the ocean - Carolyn Murphy wears the MIKADO Flamenco 'Sky' bracelet naturally. The blue shades of the Topazes remind us of the colors of the sea and the blue sky.
GZ Germany - June 2020
Nature Shooting - The MIKADO Flamenco 'Chestnut' bracelet staged in the glistening water, Tamara Comolli's source of inspiration.
l'Orafo Italy
Color Empathy - Colors bring joy into the world of fine jewelry. The new BOUTON earrings inspire with their long silhouette and in the Color Story 'Candy' with colorful Cabochons and Sapphires.
MADAME Germany - June 2020
Hold me tight - The earrings from our iconic MIKADO collection enchant with their endless gemstone variations for every woman. The playful yet elegant acorns caress the face.
BUNTE Germany - May 2020
On a treasure hunt with Tamara Comolli - Learn more about the designer, her passion for rare and colorful gemstones and the history of her brand.
Berlin Fashion Week 2020
Tamara Comolli presented her 2020 novelties during Berlin Fashion Week and welcomed around 200 fashion and lifestyle editors, influencers and celebrities.
Merry MIKADO Christmas Event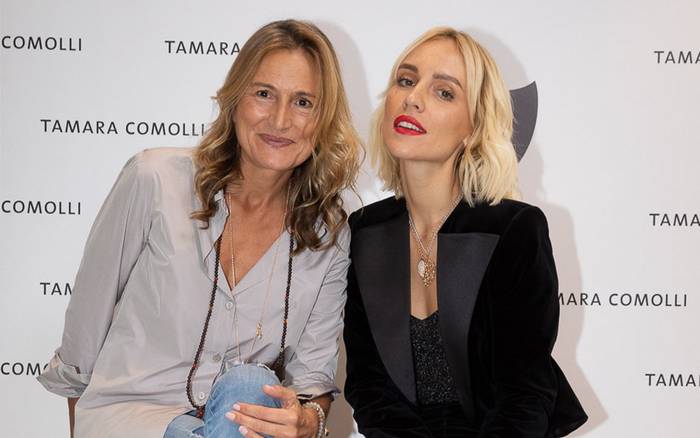 The Designer Tamara Comolli, lovely customers, special guest Viktoria Rader and press representatives came together to celebrate a "Merry MIKADO Christmas" in Munich.
Brand Event New York 2019
Carolyn Murphy and Hollywood celebrities celebrated the launch of TAMARA COMOLLI's fall/winter brand campaign in New York City.
Please select your shipping area
Select your area of delivery in order to see your correct pricing and informations